A report in the Peterborough Advertiser
"The Stamford Mercury recalls an interesting circumstance in which William Hopkinson (1784-1865) a solicitor in Stamford, became Lord of the Manor of Little Gidding. One night in 1848 he was detained at his London hotel, Gray's Inn Coffee House, through missing the York Mail, and in reading the newspaper noticed an advertisement of the sale of the Little Gidding estate.
Early in his life, he had read Peckard's Life of Nicholas Ferrar, and had been fascinated with its story. The next morning he went to the address given for the sale of the estate, and when he returned to Stamford, it was in the character of the Lord of the Manor of Little Gidding. He had purchased 700 acres that composed the estate together with the buildings upon it.
He set to work to improve the estate and concerning the church, he wrote to a friend: 'As to the dear little church, I am resolved, through the divine grace and help, to do my utmost. The possession of this spot was through an extraordinary impulse and I feel a solemn duty is to be performed towards it.'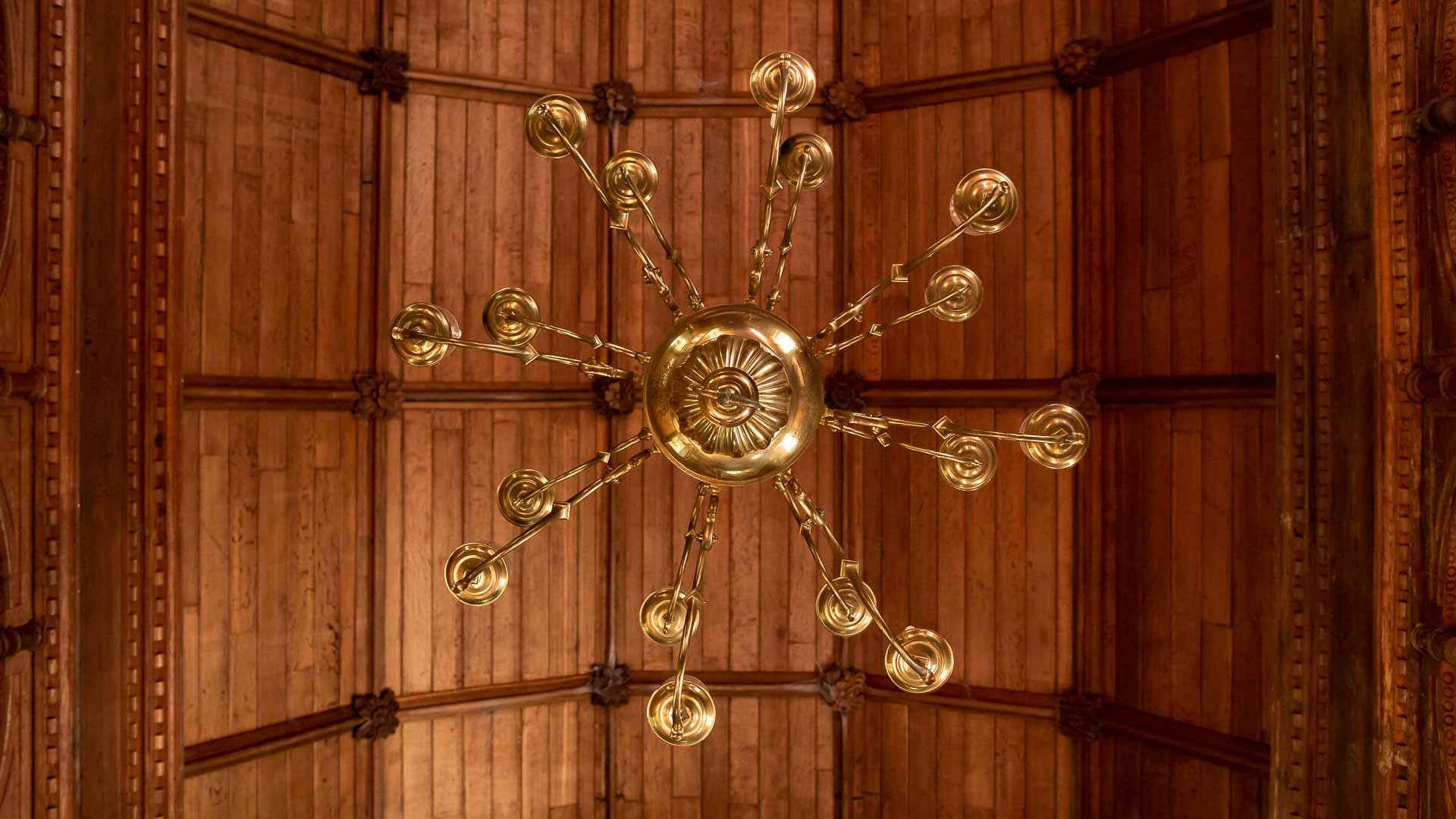 William Hopkinson hung the chandelier in the nave of Little Gidding church, and dedicated it to the memory of his father, having engraved upon the body an inscription in Latin which translated reads: 'In recognition of his debt to his most excellent father Samuel Edmund Hopkinson STB sometime Fellow of Clare Hall, Vicar of Morton cum Hacconby in the County of Northamptonshire, who died on the 17th of July 1841 this candelabrum was dedicated by the wish of William Hopkinson Lord of the Manor of Little Gidding on the Feast of St John the Divine in the year 1853.'
It has been suggested that William Hopkinson bought the chandelier from Uppingham Parish Church at the time of its renovation in early 1850s. The description matches, and William Hopkinson lived nearby in Wansford, his nephew was at Uppingham School, but no records have been found to confirm the transaction.