Alan Maycock went up to Clare College, Cambridge after the Armistice 1918 to study engineering, and later worked abroad for several years. He returned to Cambridge in 1931 with his wife Enid to serve as director of the University Appointments Board, where he remained for 33 years until his retirement.
His interest in Ferrar was awakened at Clare; and once he and Enid were settled in Cambridge, they sometimes drove out to Little Gidding for a picnic. He also read all the original documents which were then available relating to the first community, and pieced together a picture of its life. His researches bore fruit in two books: a biography of Nicholas Ferrar, published in 1938, taking the story up to Nicholas's death in 1637; and the 'Chronicles of Little Gidding', describing the last twenty years of the community.
On his retirement Alan became Keeper of the Old Library at Magdalene. There, some years earlier, a number of dusty parcels containing the private letters of Nicholas Ferrar had been discovered. Alan was in the midst of cataloguing these letters when he died in 1968.
Enid Maycock recalls summer 1946.
" Let me tell you of my first visit to Little Gidding after the war. How on a mid-summer's day Alan said, 'Let's have a run out. Let's go to Little Gidding'. Our next-door neighbours were two sisters, Richenda and Theodora Chadwick, who were very interested in Nicholas Ferrar, and so they came with us.
We drove off, parked the car, and went in the churchyard. There was no proper protection for the church – the cows were walking around and you had to watch where you sat down. Some of the panes of glass were missing in the windows and we looked inside. It looked very dusty and rather wretched. The door was locked and we couldn't get in, but Alan, who was a shy man, went to the manor house and inquired if we could go inside. He returned with the key, and we went in. The first thing that met us was the musty smell. People had been shooting and made holes in the windows, and as a result the church was full of small, dead birds, various kinds of insects, dead butterflies and mice. It was darkish. The brass chandelier looked black and we did not notice the candle sconces on the wall at all. The path to the altar had an old red covering that went up the altar steps into the sanctuary. It was torn and dirty. We were shattered. I was very naughty and finding a snag in this worn-out red covering I started pulling and made quite a rip. That was our first discovery of the beautiful marble floor which was underneath.
We returned the key, and had our picnic tea. As we sat looking at the beautiful countryside we said, 'Whatever can we do? How dreadful it is!' And Theodora said, 'Well, there are Friends of St Paul's and Friends of Westminster and so on; why shouldn't there be Friends of Little Gidding?. We had never had anything to do with such a thing, but this gripped us and Alan was determined we must do something.
When we returned home Alan wrote to the Vicar of Great Gidding, Canon Jones, and we met him for lunch in Cambridge, at the Arts Theatre. Alan knew just what he wanted to say, but didn't know how it would be taken. We told him about our visit to Little Gidding and what we had in mind, and he said, 'This is God-sent. I've never heard anything so marvellous'. I can hear him saying it. He was in raptures. Alan then contacted the Bishop of Ely. He too was thrilled and gave his blessing."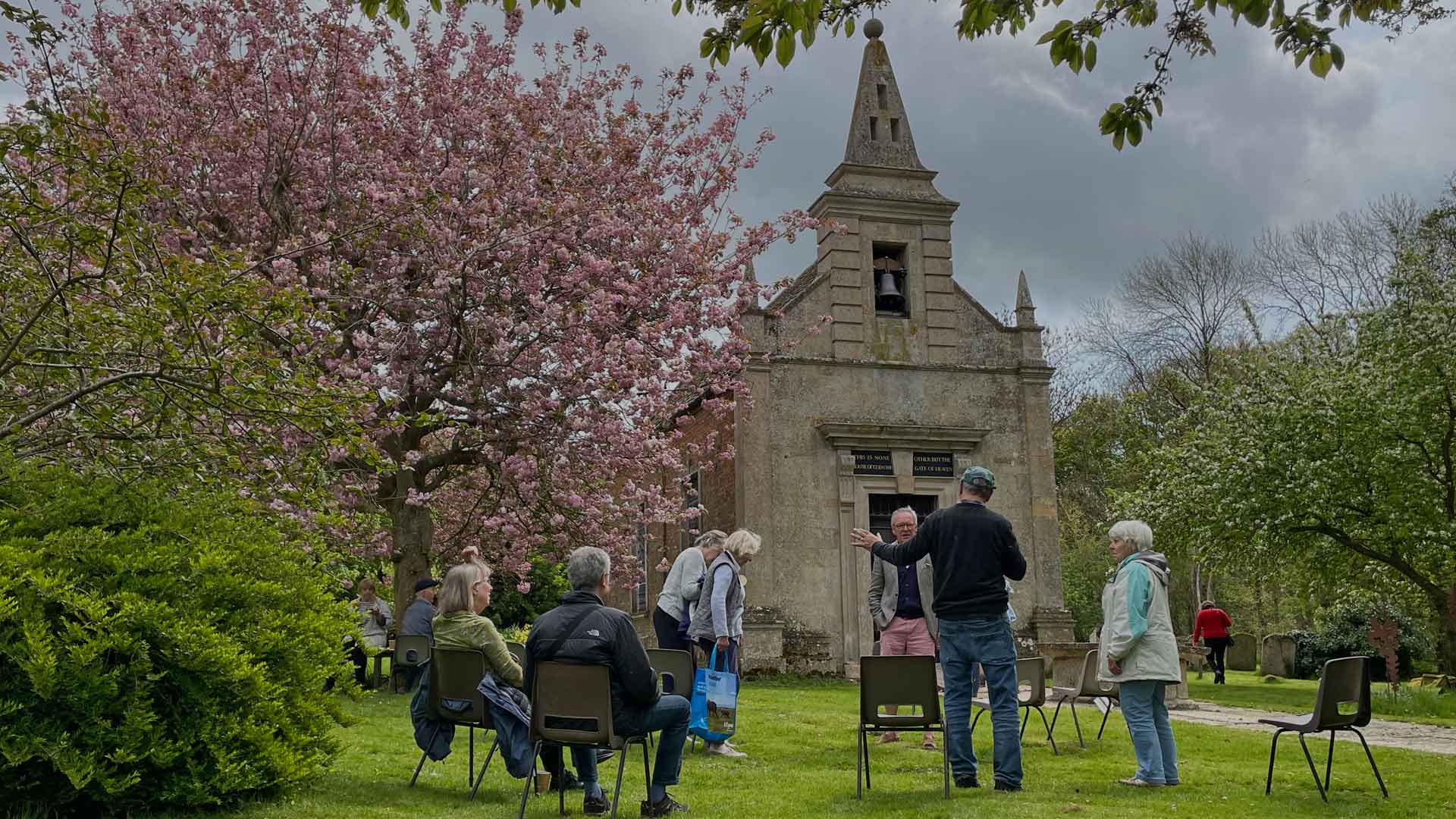 The Friends of Little Gidding
The Friends of Little Gidding was formed in 1946 and Alan became its Secretary, continuing until his death in 1968.
The Friends commissioned an oak reading desk in his honour, with the inscription: Vitae Nic. Ferrar narrator hui ecclesiae tuendae Alan Lawson Maycock 24o die Sept A.S. 1968 sodalitatis fundator D.D. aedis ipsiusque amici.
Of which a rough translation is: " the narrator of the life of Nicholas Ferrar, protector of this church, Alan Lawson Maycock on the 24th September in the year of our saviour (A.S.) 1968, the founder of the Friends, given as a gift by the Friends of Little Gidding"
The flowering cherry tree was planted outside the church to remember him.